We ventured to the outer reaches of the catchment area for this walk on 27th May 2021. The weather was warm and sunny for our 4 ¾ mile stroll.
The lifting of restrictions had enabled us to proceed with more than 6 people in the group, and so it was that nine people assembled in the car park of The Swan Hotel in the pretty village of Brewood in Staffordshire.
We first skirted the church and walked past a row of fine houses in Dean Street, where there is also a mural of Admiral Rodney, a relic of a pub of the same name. We turned right at Hyde Mill Lane, where we joined the Staffordshire Way, a long-distance footpath.
Pausing for a group photo above the Shropshire Union we continued our way towards Chillington Hall, the ancestral home of the Giffard family, the Earls Ferrer. Capability Brown was commissioned with landscaping the grounds which include an impressive two-mile-long driveway of trees extending eastwards towards an ornate canal bridge, which we crossed later in the walk.
Strolling past fields of sheep, we stopped at a house in Park Lane, where we purchased their day's output of duck eggs – £1.50 for six eggs, a real bargain.
We re-joined the Lower Avenue at Mount Pleasant wood and proceeded towards the Shroppie, which we reached by bridge number 10. No expense had been spared with this elaborate bridge, one of the most decorative on the canal with its pillared balustrade and dressed stone.
Because the towpath here is in a deep wooded cutting, it receives little sunlight, and the towpath was muddy in places after the previous days' rain. After a mile or so we arrived back in the village and, following a recommendation from Carol, we went into the churchyard to find the grave of a local boatman, Mike Webb who died in 2012, and whose gravestone included a carving of a narrowboat.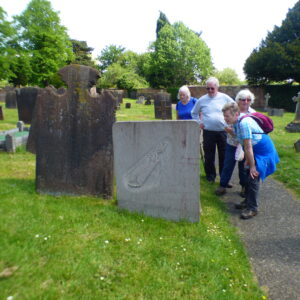 Afterwards, we retired to The Swan Hotel. The pub did not serve food, but we had been permitted to bring our own packed lunches, which we enjoyed with a drink from the bar.
(Report and photo by Clive Walker)