"Weston and the Trent & Mersey Canal." This walk has a bit of a backstory. First, the organiser had to move it from 12th May to 19th May. Then, on rebooking our table at the newly furbished Holly Bush Inn at Salt (which we were all looking forward to immensely), I was told that there was unfortunately "no room at the inn" on that day, but any other day in the week would have been fine! So, unable to reschedule the walk for a second time I booked us into the Dog & Doublet at nearby Sandon. That went fine until a few days later I received an email requesting a £5.00 deposit per head and an order for the meals at least two days in advance. That of course was impossible, and so we ended up at The Saracens Head in Weston for our lunch-time refreshment. A good restaurant, but it meant the walk had to start from Weston instead of Salt, and I thank Pete Gurney for notifying people of the change at short notice.
The weather was overcast but dry as 14 walkers strolled along the towpath in the direction of Sandon Lock. After a group photo, we left the canal at Salt bridge, an ornate bridge which had been gradually raised in layers to a level above the adjacent railway.
We walked into Salt with meadows of wildflowers to either side. Shortly after passing The Holly Bush – we will go there one day, I promise – we climbed onto Hopton Heath. Behind us the view extended to Sandon Hall, and it was just possible to make out the column commemorating William Pitt the Younger through the treeline.
After a well-earned drinks break, and with the climb behind us, we followed The Two Saints Way through coverts to Brick Kiln Lane. There are no signs of this industry anymore, just a few splendid large houses on this untarmaced track.
Now came the hazardous section I had mentioned at the start of the walk. We had to cross the A518 on the brow of a hill; here there are two lanes of traffic going upwards towards Stafford, one downwards towards Weston, and no traffic islands. Ominously there are a couple of wooden crosses visible beside the road. There were still only two crosses after we had all traversed safely and we continued our walk beside the traffic, on a pavement.
We soon passed Weston Hall, an upmarket hotel and wedding venue. The disused Uttoxeter to Stafford railway crossed at this point, and it is possible to follow the line on an OS map.
Shortly thereafter we arrived back at The Saracens Head pub, where we enjoyed the meals, which we had booked prior to our departure that morning.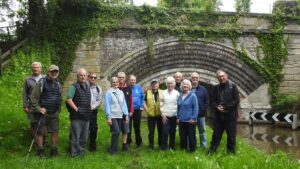 (Report by Clive Walker, Photo by Margaret Beardsmore)