Branch
Published
31 January 2023
Here at IWA Northampton Branch volunteers have put in a tremendous amount of work over the winter months, in cold conditions, to improve and maintain the canal environment for everyone's enjoyment. As the use of strimmers is often involved to cut vegetation some of our volunteers have training to use these machines safely. While hedge laying is a popular, but fairly skilled job, so there are opportunities to get hedge laying training. There are, though, many ways to join in with no specific skills or training.
In brief, here's a summary of the work done by our gallant team of volunteers.
The car park at bridge 47 on the Main Line at Gayton was strimmed, raked, litter picked and tidied. In addition we even filled in the pot holes!
We added another 10metres of laid hedge, a good achievement by 8 volunteers that day.
At Gayton sanitation station we weeded and tidied up around the building, also replacing worn out weather boarding . .
A very good task day fixing lock 1 – we repaired the paddle on the bottom gates.
We assisted CRT to empty Lock 2 of water, enabling us to clear the rubbish that had built up, especially from behind the bottom gates and part of the lock chamber. The bottom gates now operate much better and return into their recesses correctly.
We also repaired the paddle at Lock 1
There was a lot of vegetation to clear at the 2 narrows, offside, between locks 13 and 15, we had CRT assistance and the use of their youngmans bridge (temporary bridge) to get to the offside of canal.
Additionally the branches overhanging the towpath and a bench (put in by us last year) have been trimmed back.
We cleared the by-pass channel and weir, and strimmed around them.
And last, but not least, we collected and disposed of a huge hoard of rubbish.
Whilst doing all that they had fun as well! All together its a great result.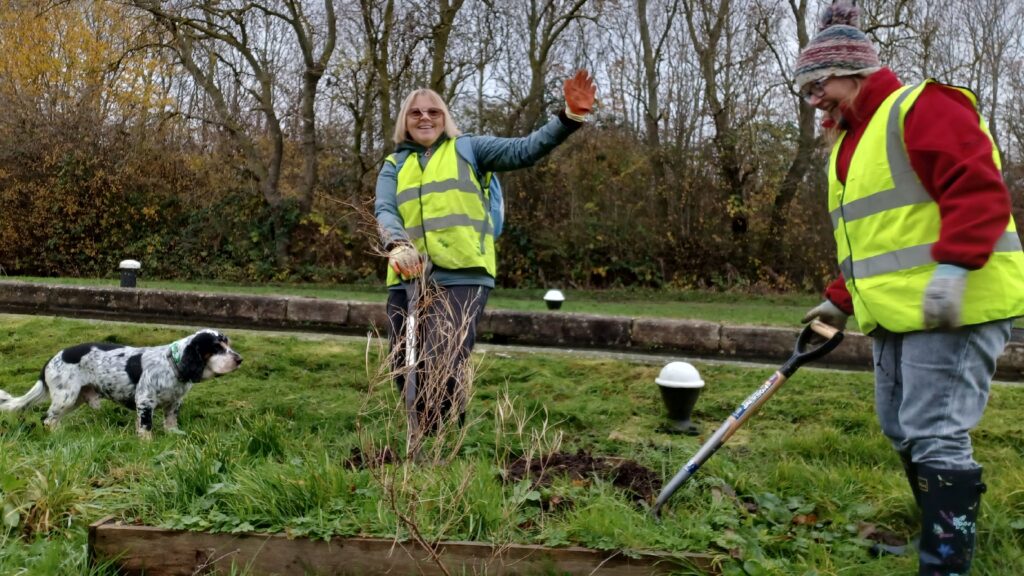 Due to all this hard work we've kept the towpath a good place for all users, and it makes boaters lives so much easier if locks are maintained!
The volunteer work parties normally take place twice a month along the Northampton Arm as part of the adoption by IWA Northampton Branch. Volunteer with us.
Anyone interested in coming along can look at the volunteering page for more info and check the events pages to check the latest details of task party days and specific dates.