Covid rules and the weather have been kind to us this April, both days were warm despite much of the month being cold. We had 36 volunteers turn out across both days. First we spruced up Gayton Junction, weeding and scraping, sweeping and generally tidying around the sanitation station. The area around Bridge 2 was strimmed and tidied, and outside the Toll House and Gayton cottage were mowed and strimmed. And after litter picking the whole area looks a lot nicer. The car park was given a similar 'brush up'. A bench was taken away for repair, and some handrails either renewed or prepared for repair.
The second Task party of April focused on repairing the track that runs parallel to the canal from lock 2 to lock 7. Four bulk bags of aggregate were used to fill pot holes. Then we carried out fence repair with 4 new posts and 15 rails installed.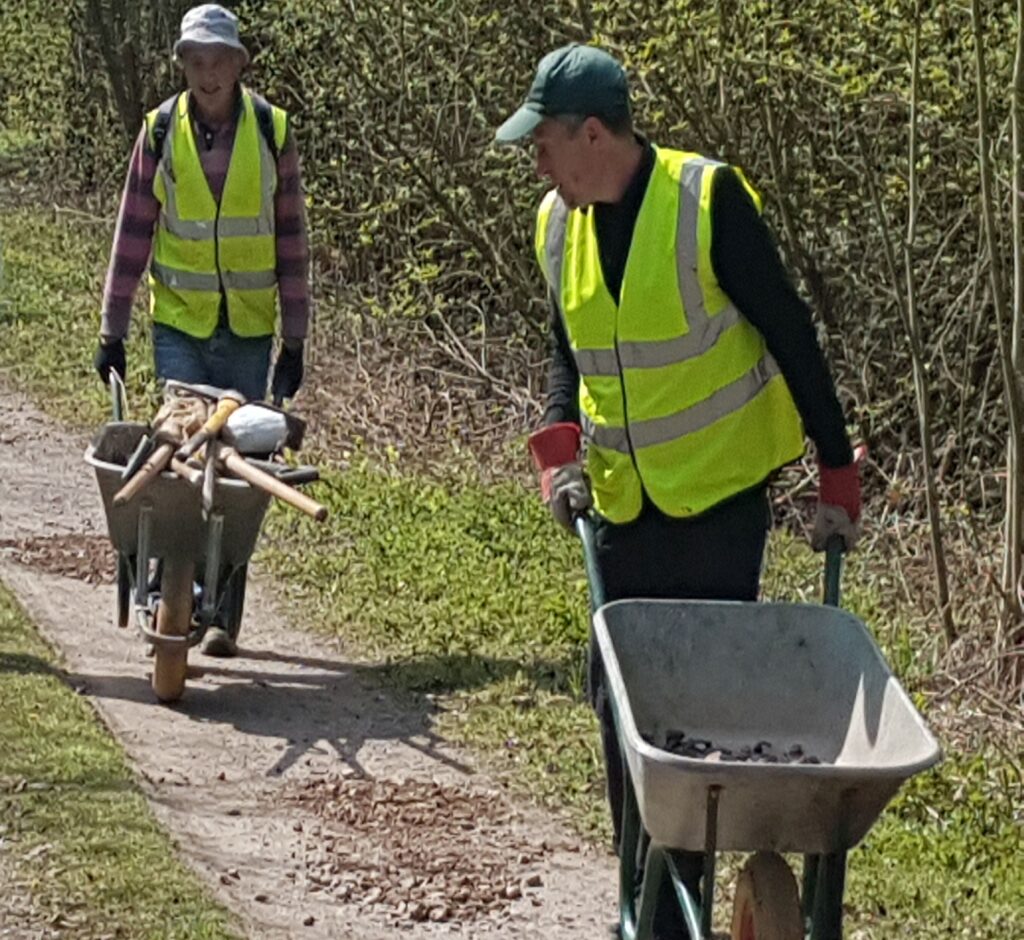 In March 2021, a keen group of volunteers re-started towpath maintenance after an enforced rest. It was great to get back out, our tasks were focused on the track near lock 7. Vegetation was cleared, both sides were strimmed and mowed, overhanging vegetation was cut. We litter picked from lock 1 to the motorway bridge including the track, collecting 4 bags of rubbish. The whole area is now appearing very much better.
Adding to the graffiti clean up we have achieved a major clean up of litter this year. About 80 bags of rubbish and 8 shopping trollies, plus other assorted rubbish were cleared away. More graffiti cleaned was removed, from bridge 14. To keep the water flow through the canal good, lock by-pass channels need to be kept free. With bird nesting season approaching it was important to tackle this vegetation clearance job this month. All the by-passes and weirs are now cleared of vegetation and debris.
Thanks go to our hardy volunteers who have braved the winter weather to achieve this, and working with smaller limited numbers for now.
In summary:
8 shopping trollies pulled out from beneath bridge 14
80 bags of rubbish collected
Last of the lock by-pass channels cleared
These volunteer work parties normally take place twice a month along the Northampton Arm as part of the adoption by IWA Northampton Branch. Volunteer with us.
Images of the volunteers clearing the by-passes. Plus this rare sighting of a visitor to our canal: the red-coated worker dangling from the bridge. Don't worry he's not a variety of volunteer!