Until the second half of the 18th century there was no standardisation of inland waterway craft and boat size varied around the country on the different river navigations.
The concept of a boat approximately 7ft wide by about 70 ft long is attributed to James Brindley, who was one of the most influential canal engineers. Brindley reached an agreement with the Proprietors of the Trent & Mersey Canal Company to build the locks on their canal to take boats of that size. The dimensions, which were considerably narrower than craft using the rivers that the canal would link to, were perhaps due to the need to tunnel under Harecastle Hill. This then became the standard size of lock on the rest of the Midlands canals built subsequently.
Wooden Horse Drawn Boats
From the late 18th through to the early 20th centuries there were hundreds of companies building and operating narrow boats for the transport of goods around the waterways system, some long distance and some just for local traffic. Originally they would all have been horse drawn. There were thousands of these boats, mostly wooden and mostly all long gone. Many of them would have been day boats used for short journeys, such as shown here on the BCN (Birmingham Canal Navigations).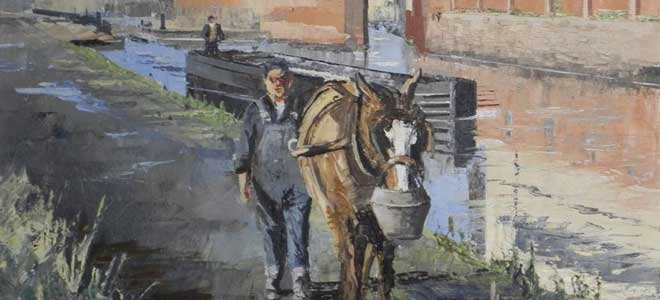 (Photo – oil painting by Harley Crossley)
Boatmen's Families
Initially, the long distance boats typically saw the men work on the boats and their families stay on the land. Early carrying companies typically employed a man to steer the boat and a boy to lead the horse. As time went on, however, and economic situations changed, particularly with the competition from the railways, it became unviable to keep a house on the land with the wages paid to a boatman, and so the long distance boatmen's families moved on to the boats to work as unpaid crew.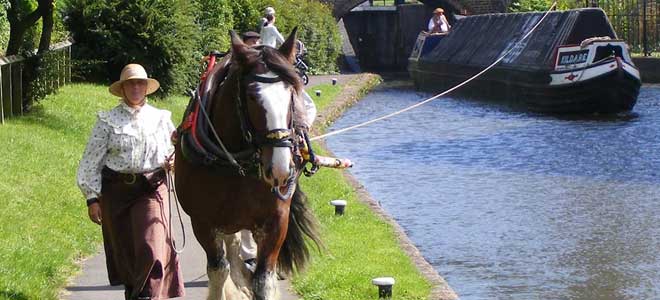 (Photo – horseboating – 'Kildare')
Butties
Even horse drawn boats were sometimes worked in pairs, the towed boat being known as a butty (possibly from the word buddy meaning friend). This gave two cabins of living accommodation for what were often quite large families, as well as twice the cargo carrying capacity.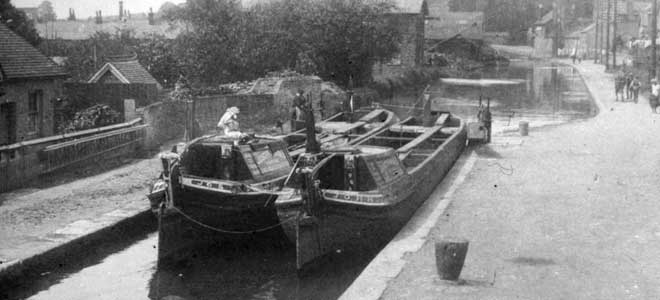 (Photo – pair of horse boats at Berkhamsted)
Number Ones
Number Ones were independent self employed boatmen who owned their own boat. Joe Skinner on narrow boat 'Friendship' was one ('Friendship' is now an indoor exhibit at Ellesmere Port Boat Museum).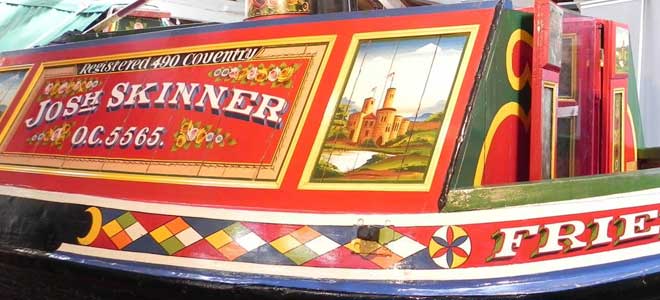 (Photo – narrow boat 'Friendship')
Introduction of Steam Engines
Towards the end of the 19th century some companies began to introduce boats powered by steam engines. Fellows Morton & Clayton Ltd (FMC), who operated a large fleet of horse drawn boats, introduced steam powered boats from 1886, some of them being converted from horse boats. These steamers were mostly used on long distance runs between London, Braunston, Birmingham, Leicester and Nottingham. They worked 'fly', non-stop day and night to a strict timetable.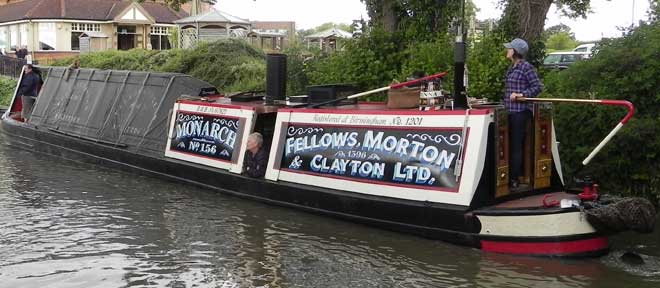 (Photo – FMC Steamer 'Monarch')
Experiments with gas and diesel Engines
The steamers were very successful for FMC, but they did have their disadvantages – a large amount of the cargo space was taken up with the engine, boiler and coal required for the journey, and the high number of crew required. A steamer pair required a crew of seven men (four on the steamer and three on the butty).
From 1906 FMC experimented with various gas engines, and in 1912 fitted their first Bolinder (a Swedish engine) to narrow boat 'Linda'.
The early Bolinder installations had no reverse gear, although this didn't worry the boatmen, for of course horses don't have reverse gear either! The arrangement worked well and all further boats were fitted with Bolinders (the later ones did run in reverse). The steamers were all converted and by 1927 they all had Bolinders too. Many FMC boats still have their Bolinder engines today.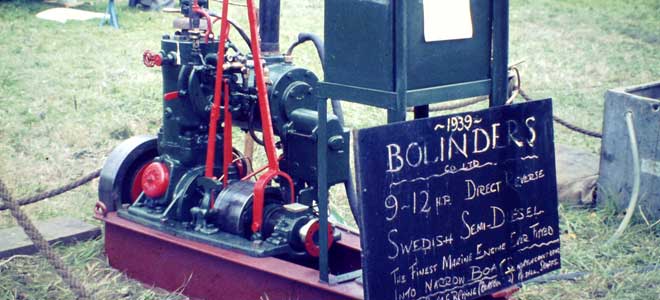 (Photo – Bolinder engine)
Carrying Companies
As well as FMC there were many other smaller companies, and by the 1930s the other large carrying company was the Grand Union Canal Carrying Company Ltd (GUCCCo), which was a subsidiary of the Grand Union Canal Company Ltd. In 1934 the company launched an ambitious expansion programme to increase their fleet to over 100 pairs of boats. Many of these boats are still around today.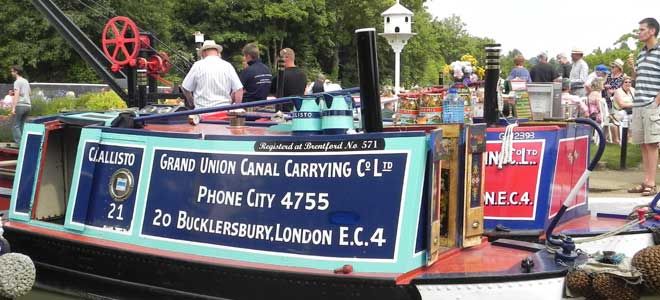 (Photo – two GUCCCo motor boats)
Nationalisation of the Waterways
In 1948 the waterways were nationalised, which included GUCCCo as a subsidiary. Most of the boats were transferred to the British Transport Commission, which 20 years later was to become the British Waterways Board. GUCCCo at that time had 126 motor boats and 130 butties. FMC boats also joined the fleet, following voluntary liquidation. This gave the British Transport Commission a total of 368 boats, probably the largest fleet of narrow boats that ever existed.

(Photo – 'Hadley' in British Waterways livery)
Decline of the Waterways
Unfortunately the canals were suffering from a lack of maintenance during the war, and traffic had declined to an all time low. Despite some attempts at revival, by the 1960s a lot of the boats were surplus to requirements. In 1963 The British Transport Commission became the British Waterways Board, and one of their early decisions was to discontinue most of its narrow boat carrying operations. This followed a bad winter where boats were iced up for months and much cargo was transferred to the roads. Many boats were abandoned in a few designated places, including Braunston reservoir, Harefield Flash, Norton Canes and the Wendover Arm.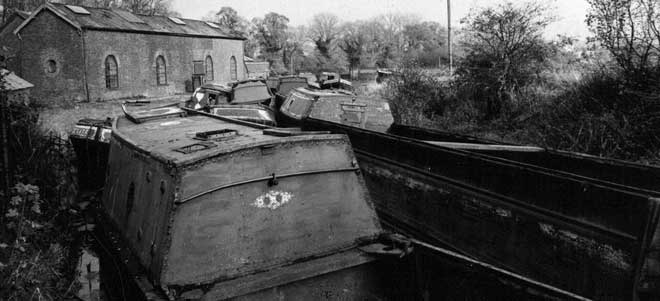 (Photo – Abandoned boats on the Wendover Arm)
Pleasure Boating
Canals were late in being used for pleasure boating on a serious scale due to their continued use for commercial traffic until the middle of the 20th century. Many early pleasure boats were converted ex working narrow boats. Ken Keay and Harris Brothers of Bumblehole were boat building yards that diversified into building pleasure boats. Although fibreglass cabin cruisers began to be popular on the canals from the 1950s, by the 1970s many boatbuilders had sprung up building purpose built steel narrow beamed boats for hire companies or private use.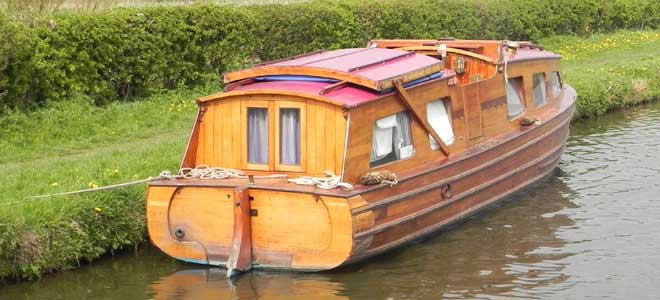 (photo – an early purpose built narrow beam pleasure boat)
Modern Narrowboats
The term 'narrowboat' (one word) has become widely accepted to describe modern purpose built steel craft of a beam to fit on the narrow canal system. It is generally more accurate to refer to historic working boats as 'narrow boats' (two words).
These days a wide variety of narrow boats can be found on the waterways – from preserved historic working boats, purpose built hire boats, hotel boats, camping boats, and privately owned boats of every kind from scruffy to the immaculate floating 'country cottage' with all mod cons.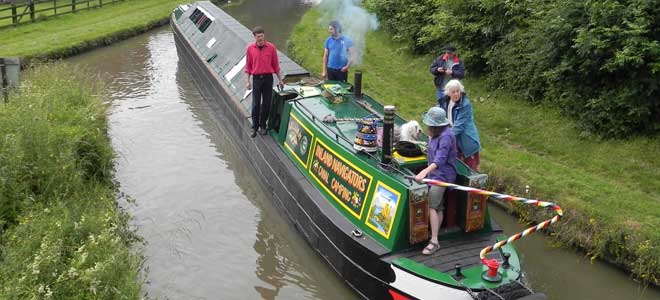 (Photo – these days anyone who wants to can go boating on an historic working boat – by going on an hotel boat or a camping boat)
Keep an eye out for forthcoming features including a narrow boat spotting guide and interesting features of historic narrow boats.