Wood or Iron/Steel?
The early narrow boats were all made of wood. Iron was used from the 1830s and was much more expensive but the boats lasted much longer. By the 1930s, steel was being used for most of the new boats being built, although there were some still being built in wood and iron, particularly on the BCN (Birmingham Canal Navigations).
Wooden narrow boats are becoming scarce because the maintenance required has meant that many have been lost over the years.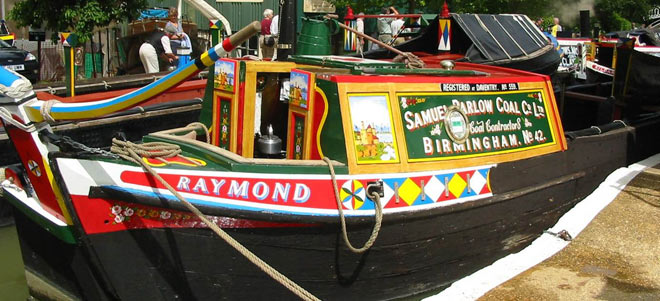 Image: This photo shows Raymond, which was the last wooden narrow boat built, in 1958 at Braunston (photo by Tim Lewis)
Motor or Butty?
In the early 20th century, steam and later diesel engines started to be installed in boats, which meant the shape of the stern had to be changed to allow the new arrangement of a propeller to work. This became known as a counter stern. Butties (the towed second boat) meanwhile retained the overall hull design of the horse boats.
When identifying a butty, it is useful to know that some of them are still original unpowered butties, some have been given some form of propulsion but retain their pointed stern, whilst yet others have had the butty stern cut off and a modern counter stern put on.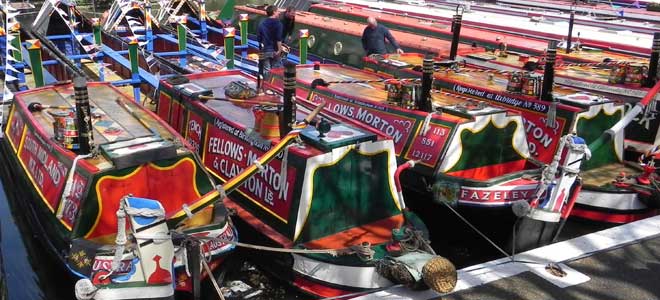 Image: Two motor and butty pairs at IWA's Canalway Cavalcade, Little Venice (photo by Alison Smedley)
Rivets or Washers?
Generally speaking, a boat with rivets is likely to be historic. However, many modern boats are built with washers welded on the outside of the hull to look like rivets. Some boat builders are getting very good at building replicas of working boats, so that it can be difficult to tell the difference (one clue is to look inside the well deck to see if you can see the other side of the rivets!).
There are also some other exceptions, such as the fleet of welded wrought iron narrow boats built in 1930s for Severn & Canal Carrying Co Ltd. There were all named after a species of tree (Oak, Elm, Fir, Pine, Beech, Alder, Willow and Ash) and were built by shipbuilders Charles Hill of Bristol. Other exceptions include the last narrow boats built for commercial carrying, the River Class and the Admiral Class, built between 1957 and 1961, which were of welded steel construction.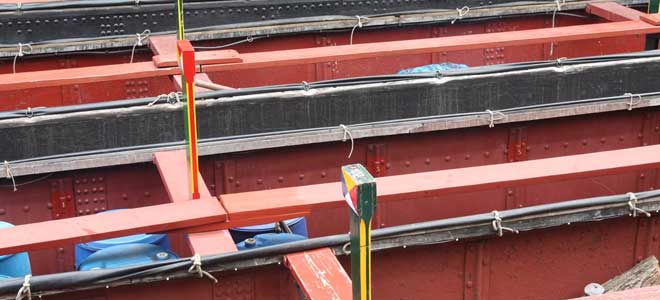 Image: Riveted hulls of working boats (photo by Alison Smedley)
GUCCCo or FMC?
Many of the historic working boats you see around today belonged to Fellows Morton & Clayton Limited (FMC) or the Grand Union Canal Carrying Company (GUCCCo), the two largest carrying companies. FMC boats are known as "Joshers", after Joshua Fellows, although in fact it was his father James who started the business in 1837.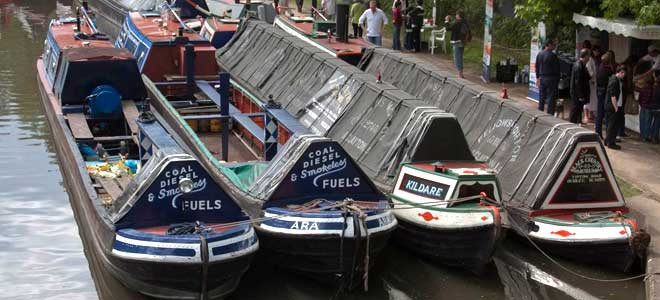 Image: GUCCCo and FMC pairs at the Rickmansworth Festival (photo by Tim Lewis)
Hill Class or Fish Class?
FMC had two boatbuilding yards, at Saltley where they built iron boats and at Uxbridge where wooden boats were built. They also had many boats built by W J Yarwoods of Northwich. There were various classes of boats, such as the 16 motor boats all named after Fish (eg Bream, Lamprey, Dory), and other series named after countries, flowers and birds. FMC's Uxbridge yard was still producing wooden boats in the 1940s, including a series of boats named after hills (eg Clent, Clee, Chiltern)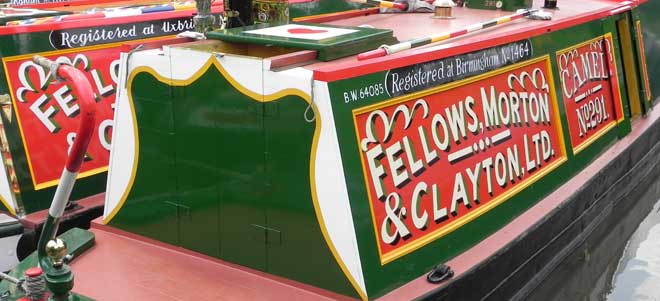 Image: Some FMC boats were named after animals, such as Kangaroo, Jaguar and Camel, shown here (photo by Alison Smedley)
The George and The Mary
GUCCCo is a much younger company and was a subsidiary of the Grand Union Canal Company Ltd, which had been formed in 1929 following the amalgamation of five separate canal companies. At that stage they had just a motor and a butty George and Mary and the following year took over a small carrying company, Associated Canal Carriers.
Further boats were acquired and then a fleet of boats, similar in design to George and Mary were ordered. These were the Royalty Class boats: Duke & Duchess, Edward & Alexandra, Henry & Anne, Prince & Princess, Victoria & Albert, William & Adelaide, and a number of these survive today. They were big boats, with sides five foot deep and capable of carrying 70 tonnes a pair.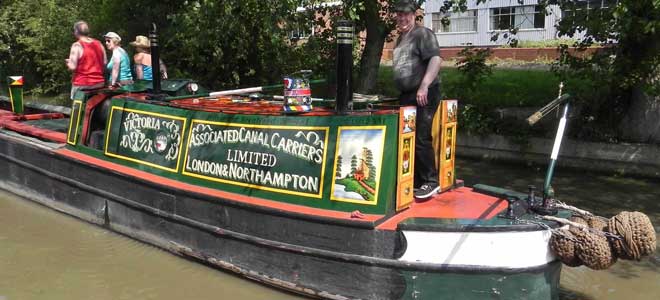 Image: Royalty Class Victoria taking part in the historic boat parade at the Braunston Historic Boat Gathering (photo by Alison Smedley)
Town or Star (Large or Small) / Woolwich/Northwich/Ricky
In 1934 GUCCCo launched an ambitious expansion programme to increase the fleet to 100 pairs of boats, built by three different boat builders; WJ Yarwoods of Northwich, Harland & Woolf on the River Thames at Woolwich (both well known ship yards) and Walker Brothers of Rickmansworth. The first boats became known as the Star Class boats, all named after stars and constellations, and the later ones, which were built slightly deeper in the hold, were the Town Class boats, named after English towns and villages. The boats built by Yarwoods and Harland & Woolf were all made of riveted steel, while the Walkers Brothers boats were wooden. The combination of boat builder and class gave rise to nicknames such as 'Large Woolwich' or 'Small Ricky', a Large Woolwich being a Town Class boat built by Harland & Woolf, while a Small Ricky was a Star class boat built by Walker Brothers.
In 1936 the Chairman of the GUCCCo was quoted as saying "never before in the history of canal transport has such a programme been embarked upon. The greater the number of boats in commission, the more economically and efficiently we can run our concern".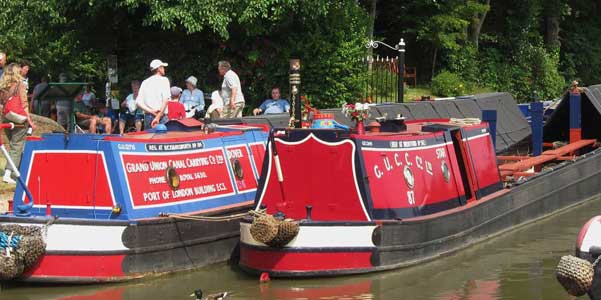 Image: This photo shows Star (Star Class) and Dover (Town Class) (photo by Tim Lewis)
Other Carrying Companies
As well as GUCCCo and FMC, there have been many smaller carrying companies throughout the history of the inland waterways, from Pickfords to Willow Wren. There are too many to talk about here, but we've mentioned a few of them below.
Young Sam or Old Sam?
Samuel Barlow was born in 1847 as the son of a canal boatman, who in 1867 set himself up as an owner boatman carrying coal from the Tamworth pits. SE Barlows was a separate company set up in 1919 by Samuel Edwin Barlow, grandson of the original Samuel Barlow. To distinguish between the two fleets, boatmen referred to boats of the original company as 'Old Sam's' and the SE Barlow fleet as 'Young Sam's'. The two companies worked well together, often on the same contracts. Barlows boats still around today include Daphne, Ian and Beatty.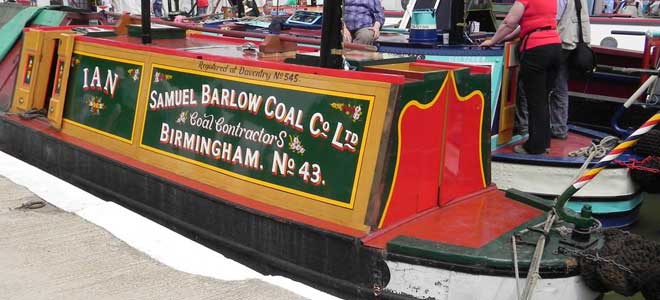 Image: Ian, a Samuel Barlow's motor (photo by Alison Smedley)
Thomas Clayton of Oldbury Ltd
Thomas Clayton (a member of the same family as the FMC Claytons) operated a fleet of wooden narrow boats built specially for carrying liquid cargoes such as tar, crude oil and creosote. The boats (originally horse boats and later motors and butties) were built by a number of different builders, and were maintained at Clayton's own dock at Oldbury. Due to the preservative nature of much of the cargo, several of these boats still survive and they are recognisable by their long flat deck with small loading hatches. Dane and Pearl are both examples of horse boats that were converted to motor boats. Claytons boats that are still around today include Spey, Stour and Towy.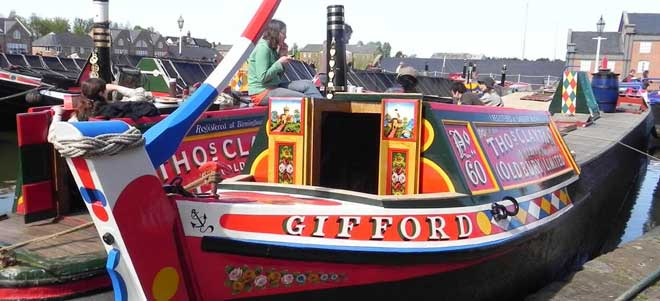 Image: Gifford, the only Clayton's horse boat to survive in an unconverted condition, restored and maintained by the Boat Museum Society at Ellesmere Port (photo by Alison Smedley)
WH Cowburn & Cowpar Ltd
This company's origins began in 1877 when William Henry Cowburn went into partnership with a Mr Parkinson with premises at Potato Wharf beside the Bridgewater Canal at Castlefield Basin. From the 1890s they supplied Courtauld's Textile Mills with chemicals for cotton manufacturing and by 1914 they were responsible for the supply of much of Courtaulds raw materials to their sites in Coventry and Wolverhampton.
The main cargo was carbon disulphide, but other products included acids, solvents, acetone and oils carried in drums or glass carboys. The hazardous nature of carbon disulphide led to the introduction of pairs of cylindrical steel tanks being fitted to some of the boats between 1935 and 1936. When the tanks were put in, all boats were equipped with a flood valve in the fore end port side to enable the boat to be sunk quickly in the event of fire.
The only Cowburn & Cowpar boats that still exist today are the eight motor boats built for the company between in 1933 and 1936 by WJ Yarwoods. They are all named after birds beginning with S: Swan, Swift, Swallow, Stork, Skylark, Seagull, Snipe and Starling. Originally they were all fitted with a Gardner 4VT which is a hot bulb semi-diesel engine, and three of the boats still have these distinctive engines today.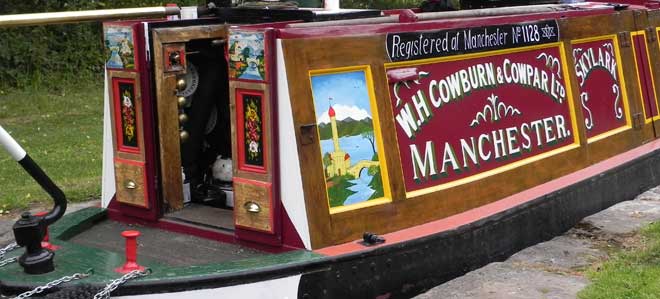 Image: Cowburn & Cowpar motor boat Skylark
Railway Boat or Station Boat?
The London Midland & Scottish Railway (LMS), when it was formed in 1923, inherited a considerable canal network and fleet of boats. Many of the boats were wooden and no longer exist, but in 1928 WJ Yarwoods were commissioned to build a fleet of riveted iron day boats, for use on the 22 railway interchange basins of the Birmingham Canal Navigations. Ajax, Mecca and Manchuria are examples of these 'Railway Boats', still around today, all since converted to motor boats with counter sterns.
After nationalisation most of the boats were sold, but 12 of the Yarwoods boats were converted to long distance boats. They were re-named after railway stations, in an alphabetical order: Alsager, Birdswood, Crewe, Ditton, Exeter, Ford, Grantham, Hereford, Irlam, Jesmond, Kidsgrove, Lincoln and are known as 'Station Boats'.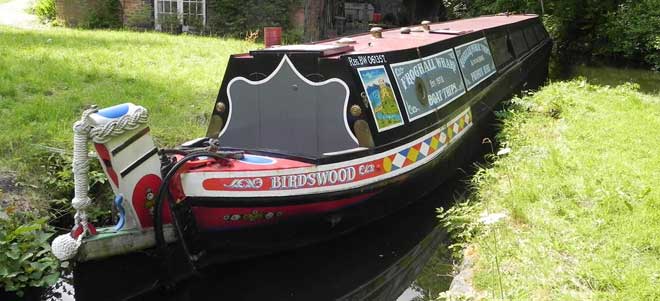 Image: Birdswood, recently restored and now operating as a trip boat on the Cromford Canal, after many years on the Caldon Canal (photo by Alison Smedley)
Bantock or GWR?
'Bantocks' are boats built by Thomas Bantock & Sons, a company that both built boats and operated them as agents for the Great Western Railway (GWR), who also had transhipment yards on the BCN. Some boats were owned by GWR and some by Bantocks but they used a combined fleet numbering scheme. The company also built boats for other carriers including LMS. Early Bantock boats are distinguishable by having wooden footings (the bottom part of the hull sides) in addition to the wooden bottom. Later Bantocks were all iron and many of these survive and are considered to have more pleasing lines than many of the other BCN built boats.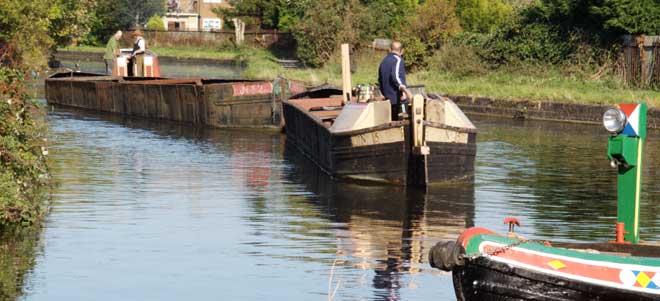 Image: GWR 15 – built by Bantocks for Great Western Railway
BCN Boats – day boats and tugs
Around the canals of the Birmingham Canal Navigations there were once thousands of wooden and iron day boats. Day boats were used for local traffic and were either open boats with no cabin, or had a small day cabin with a stove and a bench seat. Many were pulled by horses or even mules, but later tugs were built and these could pull trains of several day boats. There were numerous companies operating on the BCN, including:
Stewarts & Lloyds Ltd – who owned the steel works at Coombeswood on the Dudley No 2 canal – their tugs are still around today include Pacific and Bittell.
Leonard Leigh Ltd, whose wooden tugs include James Loader and Christopher James. During the second world war, Leonard Leigh Ltd won a contract with the Ministry of War to supply coal and so they commissioned 6 new riveted iron tugs to help fulfil the orders, all being named after Fighter Aeroplanes, including Spitfire, Typhoon, Tempest and Hurricane.
T&S Elements – based at Oldbury – boats still around today include Ben (unusual on the BCN for having been built as a full length motor) and Princess Anne (which started life as a GUCCCo motor).
There were hundreds of boatyards across the BCN all building wooden day boats, and dozens of others making iron day boats and tugs. BCN day boats are often referred to as 'Joeys', although there are those that consider that a 'Joey' was specifically a wooden day boat built by Joe Worsey. Worseys had three wooden boat building yards on the BCN, at Toll End Dock, on the Icknield Port Loop, and at Bloxwich Road, Walsall.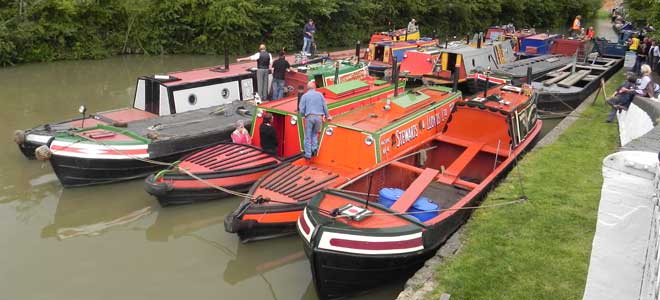 Photo – BCN Tugs at the annual Braunston Historic Boat Gathering
See previous feature on the evolution of the narrow boat.