IWA supports the principle of single handed boating, but acknowledges that risks of accident are much greater if you are boating without crew, and recommends the following advice for people boating on their own.
Planning ahead
Single handed boaters should take responsibility for their own actions in the knowledge that the risks associated with boating on their own are greater than with a crew and they should limit those risks according to conditions. For example, someone who frequently single hands their boat through locks in normal weather conditions may decide to postpone his or her trip due to extreme conditions such as ice or snow.
When boating single handed it is sensible to plan ahead and to have an idea of where you intend to get to each day, especially on rivers or waterways with few places to moor. It's also a good idea to plan for practical things, such as ensuring that you have enough food and drinks easily to hand and extra layers of clothing or a waterproof jacket easily accessible in case the weather should change. Some boaters prepare hot drinks in a flask, before they set off, to drink later on.
Mooring and setting off
A centre line (typically attached to the roof of a narrow boat or to bitts or cleats on the stern quarter for barges or cruisers) of a good length is essential for single handed boating for a number of reasons. It is useful when mooring up, enabling you to bring the boat alongside the bank before then making it secure at each end.
A centre line is also handy for temporarily mooring up your boat at the lock landing stage while you get the lock ready, but make sure it is tied up tightly enough or that the engine is left in forward gear to hold the boat in, so that one end of the boat won't swing out in front of boats coming out of the lock. A centre line can also be used for those occasions when you need to moor up very briefly to use the toilet or boil the kettle, for example, but remember that if the rope is attached to the boat roof, passing traffic may make the boat tilt significantly.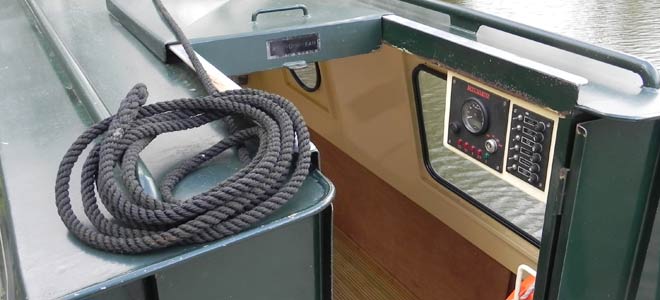 Having the centre line coiled ready near the steering position means you can step off the boat with rope in hand. Photo by Alison Smedley
The centre line should be long enough for the end to be coiled up and placed close to the steering position, so it can be picked up easily as you step off the boat. Another handy tip is to position the end of the rope to the side of the cabin closest to the towpath and move it across if the towpath changes side or to have two ropes, one on each side (especially on a larger barge or cruiser), so that you can always easily step off the boat with rope in hand. On a river or tideway with noticeable flow, it is essential never to step off the boat without a rope in hand; if the boat drifts away while you are ashore there will be no-one on board to bring in back in again!
When you set off from a mooring, make sure you coil the mooring ropes neatly so that they are ready to use when you want to moor up again later on. It's a good idea to have the mooring hammer and pins handy too.
Locks
Allow extra time – it will probably take you longer to get your boat through a lock than it would with crew, as you will have no-one available to go ahead to prepare locks.
When operating locks single handed it's a good idea to do things as efficiently as possible so you don't get over tired, although you will find that there is no way to avoid a certain amount of walking backwards and forwards. Take it steady and don't run, as that may lead to a fall or slip.
Experienced single handed boaters will adapt their own technique for going through locks, which will be based on their knowledge of how their boat behaves in different types of locks and in certain conditions (eg wide or narrow locks, going up or going down) and on knowledge of specific hazards with locks on a particular waterway which may result in the boat getting caught up (for example wide gaps between balance beams and planking on river locks which may catch your bow or lockside chains on which a hard-chined narrow boat may hang up).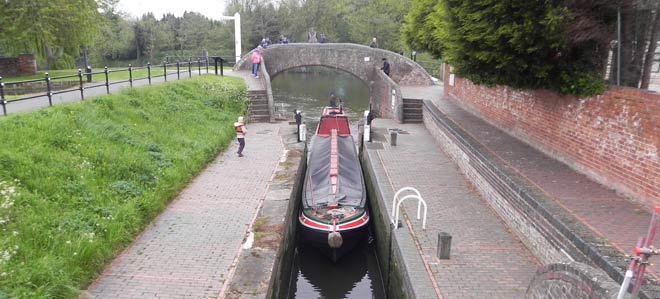 A narrow lock with a lock ladder makes for easy work for the single handed boater. Photo by Alison Smedley
Most locks these days have lock ladders fitted, which makes life much easier for the single handed boater.
Just as when locking with a crew, it is essential to keep an eye on what the boat is doing at all times and to check that it is floating freely and hasn't got hung up anywhere. Even in narrow locks it is always sensible to have a rope (ideally a centre line) on the lockside with you, so that you can pull the boat out of trouble if necessary and can move it to a ladder allowing you to board.
On river navigations and canals with wide enough locks, it's always best to share locks with other boats in order to save water. If the other boat has plenty of crew they may be happy to operate both sides of the lock but don't assume so and be prepared still to do your bit.
On some larger waterways there is a requirement for marine band VHF radio (and it's a good idea on larger waterways even where it's not obligatory), in order to communicate with lock and bridge keepers and other vessels. On certain larger waterways, such as parts of the tidal rivers Ouse and Trent, the byelaws prohibit single handed boating and you may be denied access to the tideway at places such as Goole if you are alone, so you will need to find some crew if your journey includes any of these stretches.
Lift and Swing Bridges
Moveable bridges, just like locks, should have a landing area where you can tie up the boat while you open the bridge, then return to the boat and take it through, tie up again and return on foot to close the bridge. Some moveable bridges still have the operating controls on the offside, which can make it difficult for the single handed boater and operation usually involves having to nose the boat right up to the bridge in order to get off, so that you can get back on again once you've opened the bridge in order to move the boat through, and then carry out a similar procedure once you are through the bridge in order to close it again. IWA policy is to press for proper landing stages to be provided on the offside in these cases but there are still bridges where the only option is to climb over bridge railings with rope in hand.
Tunnels
Before entering a tunnel it's worth making sure that you have a torch to hand (and a spare in case the batteries fail), and a waterproof jacket, as most tunnels tend to have water dripping from the roof and there won't be anybody in the cabin to pass out a coat to you!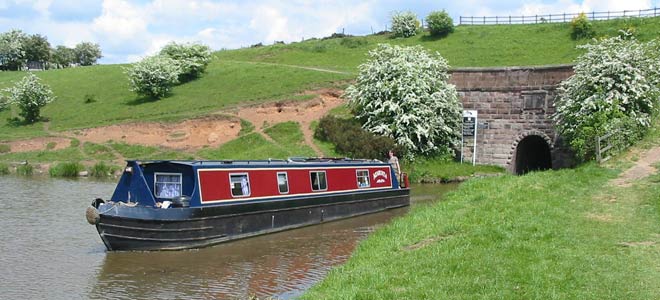 Caldon Canal, Leek Tunnel
Weather conditions
Ice, snow, rain, hail and strong winds are all types of weather that can make single handed boating more difficult and when these weather conditions are extreme it is probably advisable to postpone your trip. Don't forget the effects of too much sun either. If boating in hot weather or a heatwave it is advisable to wear a hat and sunscreen, make sure you have plenty of cold soft drinks to hand and be prepared to moor up for a siesta during the hottest part of the day.
Safety considerations
Even if you don't wear a lifejacket all of the time, it can be a good idea if you are boating on your own in certain conditions, such as on rivers, through tunnels, in the dark or in cold weather conditions (immersion in very cold water is more likely to lead to life-threatening situations).
On rivers and tidal waterways (and in tunnels) falling overboard when alone may be extremely hazardous, even if wearing a lifejacket. On a boat steered with a tiller, contact between the rudder and floating debris when the boat is moving at a reasonable speed can be enough to unbalance the steerer. Risks can be minimised by steering the boat from the safest position possible; for example on a traditional-stern or semi-trad narrow boat, stand in the hatches with the doors closed behind you, so that you can only fall inside the boat.
Wearing stout shoes with a good grip is sensible and do take extra care when stepping on and off the boat in the rain, ice or snow, as surfaces are likely to be slippery.
It's good practice to keep the roof of your boat clear so that you can get on and off using the roof when locking. Lock ladders are rarely in the right place (and in the bottom of a narrow lock it is difficult to walk along the gunwales to get to the lock ladder), so you will need a way of easily getting on to the cabin roof (a small folding metal step is easily installed on the cabin side if you don't already have one) from the steering position.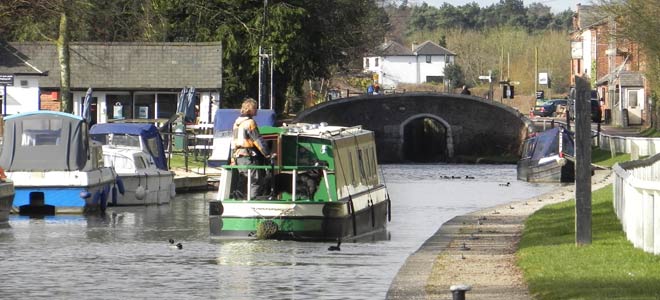 Single handed boater at Fradley on an early spring day. Photo by Alison Smedley
It's a good idea to know where you are along the waterway and what feature, such as a junction, flight of locks or a tunnel, is coming up next, so you might want to make sure you have a waterway guide showing the whole of your route handy. If you are boating on a river or tidal waterway it's sensible to know where there are safe places to moor in an emergency. It's also advisable to ensure that your anchor is ready for use at all times on rivers and tidal waterways.
These days most boaters have a mobile phone and when boating on your own this is recommended, as you may need to call for help in the case of an accident or sudden illness. It's a good idea to know roughly where you are along a stretch of waterway as if you can inform the emergency services of the nearest bridge name or number this can usually help them to locate you. It can also be a good plan to make sure that family or friends are aware of your route and to arrange to make regular contact with them.
Many of these suggestions equally apply if you are boating with a crew, so whatever trip you are planning, with or without friends and family, do stay safe.