Owning your own boat can be hugely rewarding, with the freedom to travel the UK's waterways at your own pace, closeness to nature and sharing your love of the waterways by entertaining friends with day trips.
Some initial things to consider include the costs, types of boat, getting a boat licence and boat maintenance.  Unless you intend to continuously cruise the network throughout the year, you need to give some serious thought to finding a permanent mooring for your boat.  Generally finding the right boat at the right price is fairly straightforward, but finding somewhere to berth it can be a little more tricky. It is therefore a good idea to find a permanent mooring before buying your boat.
Choosing a Waterway
Firstly you'll need to know what area and on which waterway you would like your boat to be based. If you intend to live on your boat, this might be close to your place of employment, family or friends. Otherwise, you might choose to moor your boat on the other side of the country from where you live. Things to consider would include the size of the boat you intend to buy – you'll need to check whether it will fit through the locks on the waterways you intend to use! Do you like to eat out or enjoy a swift pint? If so you'll want to check out nearby pubs and restaurants.
Once you've got an idea about where you'd like to moor your boat, you can start to look at what moorings are available in the area. You may already have a very clear idea, but if not, you can take a look at our waterways route map or see the individual waterways pages.
Online vs Offline Moorings
Permanent moorings can be found within marinas or basins (offline) or along the main line of a canal or river (online).
Marinas are usually large purpose made water spaces but moorings can also be found at boatyards and the wharves, arms and loops left from the commercial days of the waterways.
Offline moorings are generally run by businesses, and can be more expensive than online moorings. However, you are more likely to benefit from facilities such as water, toilets, sanitary disposal, showers, a diesel pump, electricity, coal, gas and Wi-Fi. Some marinas also have boatyards and chandlery shops on site and there may even be some basic security against vandalism and other crime. Marinas and basins often have transport links and car parking, which is something to consider if you need to travel. Apart from the cost, possible downsides include the fact that some marinas may have a waiting list for their berths.  Some marinas will have residential moorings, and a few marinas may offer a 'caretaker' (residential) berth, but these are rare.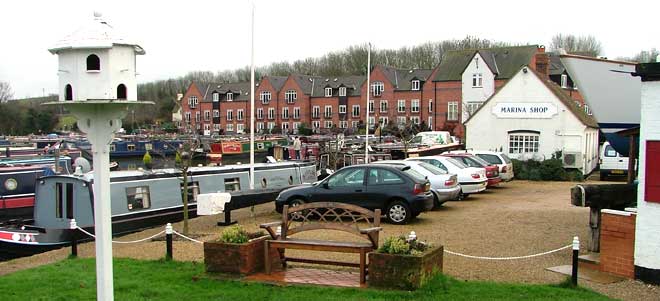 Image: Braunston Marina
Online moorings along the main line of a canal are usually run by the navigation authority, or in some cases local farmers who set up moorings along their land, and tend to cost less than offline moorings because there aren't as many, or any, facilities. Apart from the cost, advantages of online moorings include being closer to nature, heritage and often beautiful scenery.
Some moorings are available along the towpath side but these lack privacy and any degree of security. Those on the non-towpath (off-side) are preferable and will have some security depending on the access, fencing and gating arrangements.
You could buy or lease a length of land alongside the waterways but remember that this does not necessarily mean that you have rights to moor a boat there. There may be planning restrictions and on canals you will still have to pay the navigation authority for mooring. These can be referred to as 'end of garden moorings' or 'farmers' field moorings'.  On rivers the situation is different as riparian owners generally have the right to moor alongside their land if they own their side of the land under the river. Remember that rivers go up and down, so you will need suitable mooring arrangements to allow for this and you may not be able to get to your boat in flood conditions.  In either case, you should consult with the navigation authority first before committing to a mooring.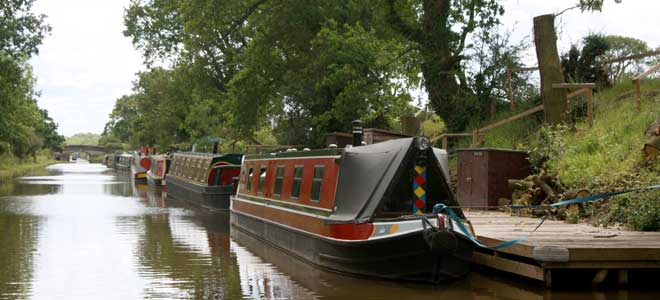 Image: Online moorings, Shropshire Union Canal
Boat Clubs
Boat club moorings may be online or offline. These clubs often have club-houses and host social events. Many clubs require their members often pitch in with maintenance of the site, which saves money.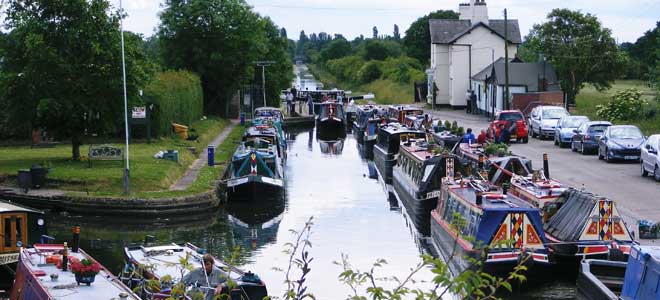 Image: Longwood Boat Club, Rushall Canal (photo by Angela Acott)
Residential Moorings
If you intend to live on your boat, there are additional things to consider. For a start, unless you intend to continuously cruise the waterways you'll need a suitable mooring.  Most residential moorings require planning approval, so you should always take advice to ensure your proposed residential mooring is legitimate. Some residential mooring operators require boats to be away from the mooring for a certain time each year or require you to have an address elsewhere.  In some cases you may be required to pay Council Tax, but Housing Benefits could contribute towards the mooring fees.
You'll also need to think about the facilities that will be available in winter, for example if you're moored online and the canal freezes, how would you go about emptying sanitary facilities or getting fuel and water? Take a look at our features on the pros and cons of living afloat and ten things I wish I knew before living on a canal boat for more information.
Finally, it's useful to be aware that many residential berths are based on short term mooring agreements, which can easily be terminated by your landlord – it is important to read and understand the 'small print' of your mooring agreement.
Next Steps
Once you've got an idea about where you might want to moor, you can refer to our individual waterway pages to find details of navigation authorities, boat clubs and marinas to get in touch and find out about the availability of long term moorings.
Some navigation authority websites provide information on finding residential and permanent moorings on their waterways:
Other links