Creative beginnings
"I've been creating art for as long as I can remember. I used to draw all the time when I was a kid – I loved to draw horses and I'd be sat in class doodling. Once I started painting, I always included water of some kind if I could, as I'm fascinated with the canals, but I do other things too. Years ago I took on commissions as a hobby. I did some family pet portraits and at one time I had quite a number of requests for tigers. It was around the time Esso had the 'Put a Tiger in Your Tank' slogan and I got fed up of painting them! People like having their boats painted in a favourite spot, and portraits of anglers holding a net full of fish – probably more than they'd ever caught – were popular as well.
"Since being introduced to the waterways, canal scenes have been my favourite things to paint. While out boating, I do some painting and sketching on location if I see a view that I like; I look at the scene and move things around a bit on the page to get the best composition. Mostly, though, I work from photographs. I do the majority of my paintings during winter after we've closed up the boat. It can take a month or more to complete a painting, although it probably only takes around two weeks of actual work. You have to have a break or two; coming back to the piece after a few days means you notice things that aren't quite right that you might not otherwise have seen."
Inspiration
"I prefer to use watercolours or gouache, although I have worked with acrylics and I want to get back into painting with oils again this year. I'm a bit of a traditionalist and am inspired by artists like Constable and Gainsborough, but I absolutely love Banksy's modern work too. I'd describe my style as realism with some interpretation. I like to get the light, perspective, composition and detail as close as I can, then add things like snow to make it wintry. Gouache paint is good for this as you can layer paler colours over the top of darker ones, producing more vivid results than traditional watercolour paintings.
"The Christmas card picture I'm most pleased with is the Packet House at Worsley on the Bridgewater Canal. The photograph was taken in mid-July and I used a bit of artistic licence to make it wintry – I wasn't sat out in the cold. Another painting that brings back nice memories is one I did of my grandchildren. We'd stopped at Great Haywood and the boys were fishing in the canal. Later that evening we listened to a Jools Holland concert that was taking place at the nearby Shugborough Hall and watched the firework display from across the fields. My favourite painting, however, is always the next one – as long as I don't get bogged down with it. I always start off saying I won't add in so much detail but then I do – I just can't help myself."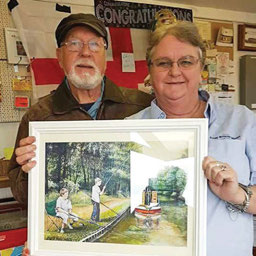 I've been an IWA member for many years and my paintings first appeared on the Association's Christmas cards in 2013. I had a selection of waterways scenes and thought they would make a good calendar so got in touch with Neil Edwards who advised me to submit a picture for the cards instead. To my surprise, it was accepted and I've added a new painting to the collection each year since.
Going for gold
"I've been a member of the Guild of Waterway Artists for three years. While out on the network, I display my paintings outside the boat and on separate occasions I got talking to two Guild members who suggested I submit my work. It's a prestigious group as there are only ever 25 members and you have to be voted in, so I was honoured to have been accepted into the Guild straight away. Among the founding members was Alan Firth, whose paintings also appear on IWA's Christmas cards, and I'd admired his work for years – I've even got a few of his wall plates inside the boat. As part of the Guild, my work is on show alongside that of the other members at various exhibitions around the country including Audlem Mill in Cheshire, Ellesmere Port and the Black Country Living Museum. We keep in touch throughout the year and meet up at the Braunston Historic Narrowboat Rally every summer where we have our own stand. I also have my own display at the Arcade Art Shop in Newark-on-Trent."
Adventure
"During the summer, my wife and I enjoy exploring the network on our narrowboat Eliza Rose (named after my mother-in-law Eliza and wife Rose). We bought the boat around 12 years ago after going on a few hire-boat holidays and we're now spending as much time as possible cruising the canals while we can. The boat is based at Kings Bromley Marina, which is very rural but also quite central and means we can choose almost any part of the network to visit. We love the adventure of being out on the waterways and have been to most places except for London. Cruising into Liverpool and staying at the newly opened docks in the middle of the city in 2008 was a memorable experience. We love the area that we're in too; Tixall Wide is not too far away and Rose recently took a fantastic photograph of it that we're going to print out to put up on the boat."
Shop Dave Gardham Christmas cards