There are many reasons why a boater may find themselves having to boat at night.  It could be due to illness or emergency, such as a crew member becoming unwell or needing to get your boat past a short-notice stoppage.  It could be due to the timing of a tidal passage, or it could be through miscalculation of the time needed to reach a mooring, or it may simply be through choice.
IWA supports the principle of being able to navigate at night. Boating at night is something that is allowed for in some but not all navigation authority byelaws, and for commercially operated boats it is often a necessity.  There are some places where it is prohibited, for example on the River Wey, Middle Level and Chelmer & Blackwater navigations – so it is best to check with the relevant navigation authority.  Most hire boat companies also prohibit boating at night, so if you are on a hire boat holiday in the winter you will need to make sure your schedule allows for mooring up before it gets dark.  Boat owners should check the terms and conditions of their insurance.
There are a few things that boaters should bear in mind, especially if you've not been boating in the dark before.
1.  Headlight
Ensure your boat has a good headlight, particularly on narrow waterways where you may need it to see where you are going and to avoid damage to your own or other craft.  Bear in mind though that headlights are intended for use in tunnels and can easily dazzle oncoming boaters or towpath users.
2.  Navigation Lights
Whilst carrying a headlight alone is permissible for narrow boats on the narrow canal system, for larger craft and on larger waterways, rivers and freight waterways navigation lights are required.  These should consist of a white masthead light (not a headlight), a red side light on the port side and a green side light on the starboard side (neither of which should be visible from behind), along with a white stern light.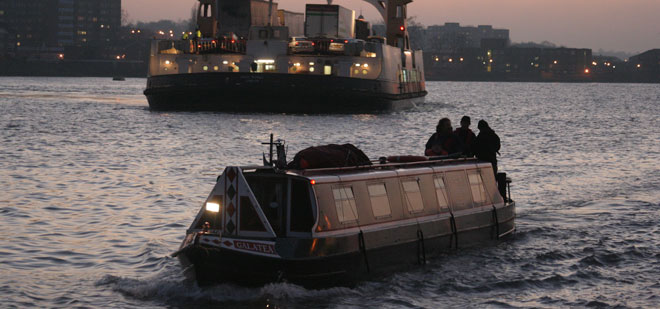 Night boating on the River Thames. Photo by Tim Lewis.
You should have these navigation lights fitted if you are cruising on any of these waterways, even if you do not intend to do any boating at night, as you may find you have to use them if you break down, or your plans change once you are on the waterway and you need to make a tidal passage late in the day or early in the morning, or you suddenly find visibility is reduced (e.g. due to fog) and there is nowhere safe to moor nearby.
More detailed information, including requirements for vessels of different lengths and for different waterways, can be found on our boating pages.
3. Passing Moored Boats
When boating in the dark try to consider moored boats and the people who may be on board – especially if boating late into the evening, through the night or very early in the morning.  Sound travels on the water, so avoid having to shout to your crew, and slow well down past moored boats (pass even more slowly than you would during the day) to minimise disturbance.
Passing moored boats. Photo by Paul Strudwick
4. Have a Torch to Hand
Make sure that your instruments are visible in the dark.  Head torches are great inventions and extremely useful when boating in the dark, especially when operating locks or mooring; however, be careful not to dazzle others by moving so that the beam shines in their eyes.  Having a hand held torch close to the steering position can also be a good idea – but bear in mind that bright lights will affect your night vision. Having a supply of spare batteries for your torches is also sensible.
5. Navigating Your Route
Make sure that you are familiar with your route, and have appropriate maps, guidebooks or navigation charts to hand, so that you know when to expect junctions, locks, bridges and bends and can recognise individual lit navigation marks.  Take particular care at these places and in particular take extra care if operating locks at night (where this is permitted). If you are boating single-handed give serious consideration to the risks.
Beware of overhanging bankside vegetation, on cloudy or moonless nights in particular, and especially on rivers keep a look out for floating objects.  Depending on the surface material, towpaths or river banks may show up more than the darkness of the water in the waterway, and you can sometimes use the towpath or bank to work out which way the canal or river goes around a bend.  Night boating on rivers or larger waterways can bring other challenges and you will need to be on the look out for weir signs and navigation channels that may not be so obvious in the dark.
6. Let Someone Know
Make sure someone else knows where you are going, have some form of reliable communication on board (preferably marine band VHF radio on larger waterways where this is in use) and have an anchor ready for deployment in an emergency (and know how to use it!).  Even if you don't wear a lifejacket the rest of the time, it can be a good idea if boating in the dark or in very low temperatures (immersion in very cold water is more likely to lead to life-threatening situations).  IWA advises against boating in the dark in other conditions with increased risks, e.g. floods, mist or fog, extreme ice or snow, etc.
Photo-top: Boating at night on the River Weaver. Photo by Steve Wood