This Summer afternoon walk had originally been planned to take place on January 1st 2021, so it was fortunate that, following the lifting of some restrictions, by June we had the availability of a pub and food for refreshment. We met up half an hour before our departure time and placed our food orders with the staff of The King's Head in Atherstone.
It was a stiflingly hot afternoon as we set off along the A5 at rush hour. After carefully crossing the Holly Lane roundabout, we entered the tree-clad, jungle-like surroundings of the "Paddy Line" a disused line connecting Baddesley Colliery with the main line and Baddesley Wharf, where at one time as many as 30 boats a day were loaded with coal.
The footpath ends suddenly beside a house (although the original railway continued on an upward gradient towards Baddesley, and we continued along Waste Lane, so called because it was where the colliery deposited its spoil. Today it is a pleasant tarmacked country lane with extensive views northwards towards Leicestershire. Passing a fishery, we entered Grendon, where we turned right along an access road, running parallel to the A5. At Green Lane we crossed Watling Street again – more easily this time – and passed over the railway line to enter fields vibrant with the songs of skylarks. This land, wedged between the Coventry Canal, the railway line and the A5 has been earmarked for large-scale housing, but it is difficult to see where the developers would have been able to lay down viable access roads between three long-standing transport thoroughfares.
On reaching the Coventry Canal by bridge 46 we phoned the pub to let them know we were half an hour away. The Atherstone flight is busy all year round, the locks are slow to fill and quick to empty, and each chamber has a side pond attached. However, without supervision or instruction boaters found the side chambers awkward to use, and they have all now fallen into disuse.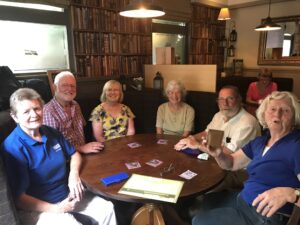 We arrived back at the King's Head within the scheduled time, and the delicious food and refreshment duly arrived on time.
(Report and photo by Clive Walker)