The warehouse is situated near the end of the Ellesmere Arm of the Llangollen Canal in north Shropshire, within a former canal wharf site.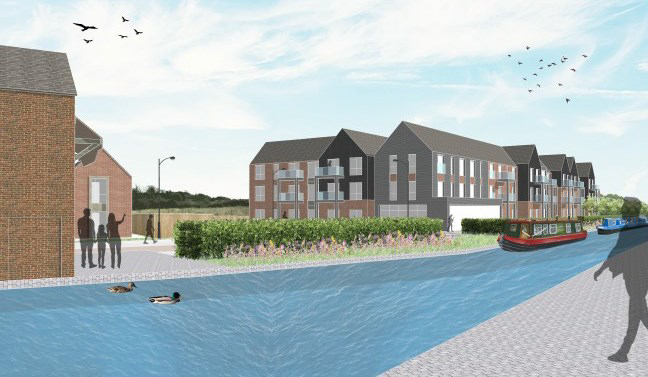 In 2021, after withdrawal of their earlier planning application for a large housing scheme on the wharf site, developers submitted a smaller proposal which included 58 retirement apartments, 8 dwellings, and the conversion and change of use of the warehouse building to use class E(b) cafés/restaurants, etc.
This was refused on 20 March 2023 but only on the grounds of inadequate parking provisions.
Two days later, Listed Building Consent with regard to alterations to the warehouse was approved (with conditions) – some eleven months after submission of the application!
So, the iconic, listed warehouse has, belatedly, been approved for conversion to café/restaurant, but effectively refused for use as such because the associated retirement homes development has been refused permission.
We think it may be 2025 before there is any resolution for the warehouse, but works in accord with the Listed Buildings Consent must be started within three years of the approval date.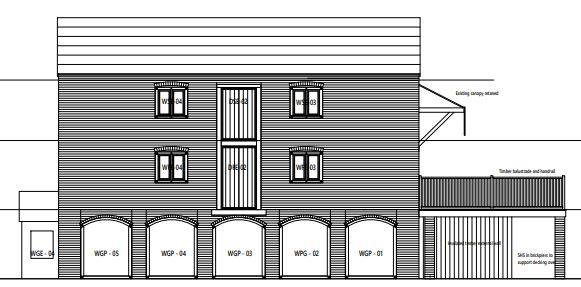 Notes:
Top drawing is an artist's impression of the general view, and drawing above shows elevation from the canal, from the planning application. Photo by Alan Wilding.
The crane at Ellesmere Wharf is a typical London & North Western Railway goods yard crane, made at its Crewe works. The crane was refurbished and reinstalled a few years ago following IWA lobbying.