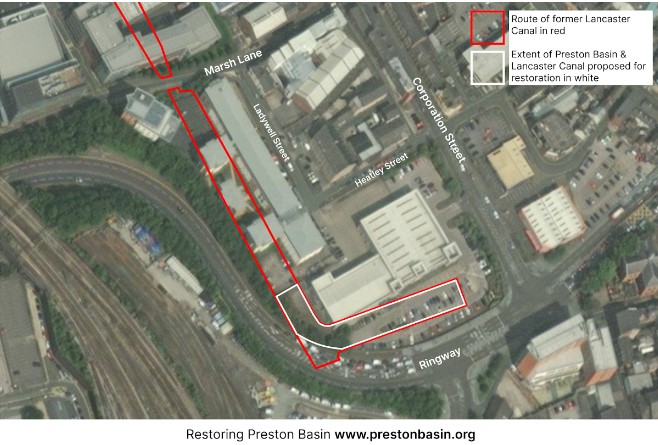 A new opportunity for Preston
The Restoring Preston Basin campaign by Daniel Crowther proposes the restoration of the 300 feet (91 metre) long Preston Basin of the Lancaster Canal, repurposing the site of the 19th century basin as a 21st century multi-purpose amenity, recreational and biodiverse space.
The plans demonstrate how restoring Preston Basin could complement the indicative plans for the University Walk quadrant of the Preston Station Quarter Regeneration Framework.
This scheme does not propose the restoration of the Lancaster Canal's 'lost mile' from its current terminus at Ashton Basin and Aqueduct Street to Preston Basin, as most of that route has been built over, and cost of recreating the canal along its original line, or anything similar, would be an enormous cost, and which would be difficult to justify on economic or any other grounds.
The campaign is a response to the Preston Station Quarter Regeneration Framework, which was launched in March 2022.
Further details of the proposals and a wide selection of historic photos covering the site in Preston are available at Daniel's website.
IWA Lancashire and Cumbria Branch supports the proposals and they will be the subject of a presentation at a branch meeting shortly.
[The photo shows the remnants for basin in 1897 and the same view 125 years later.]
[The photo above shows the area covered by the Basin (white outline), and the Preston end of the Lancaster Canal (red outline)].