Update on 28th April 2023: The Canal Camps booklet is now available here.
Update on 28th March 2023: Bookings are now live at https://waterways.org.uk/waterways/sites/waterway-recovery-group/events
IWA's Waterway Recovery Group has launched its summer programme of working holidays called 'Canal Camps'. These week-long getaways mean that you can help restore the derelict waterways of England and Wales.
This summer, volunteers will support seven different canal restoration projects and undertake a range of work. For example, you could help rebuild John Robinson Lock on the Cotswold Canals, and to reinstate the aqueduct/culvert carrying a stream under its top end. You might be involved in the construction of 300m of new towpath on Lichfield Canal; or help create an access rump between the bridge and the towpath on the Lapal Canal.
Canal Camps are a great experience for anyone who loves being outdoors and enjoys meeting new people from different backgrounds and of different ages.
The list of Camps announced for 2023 so far is below.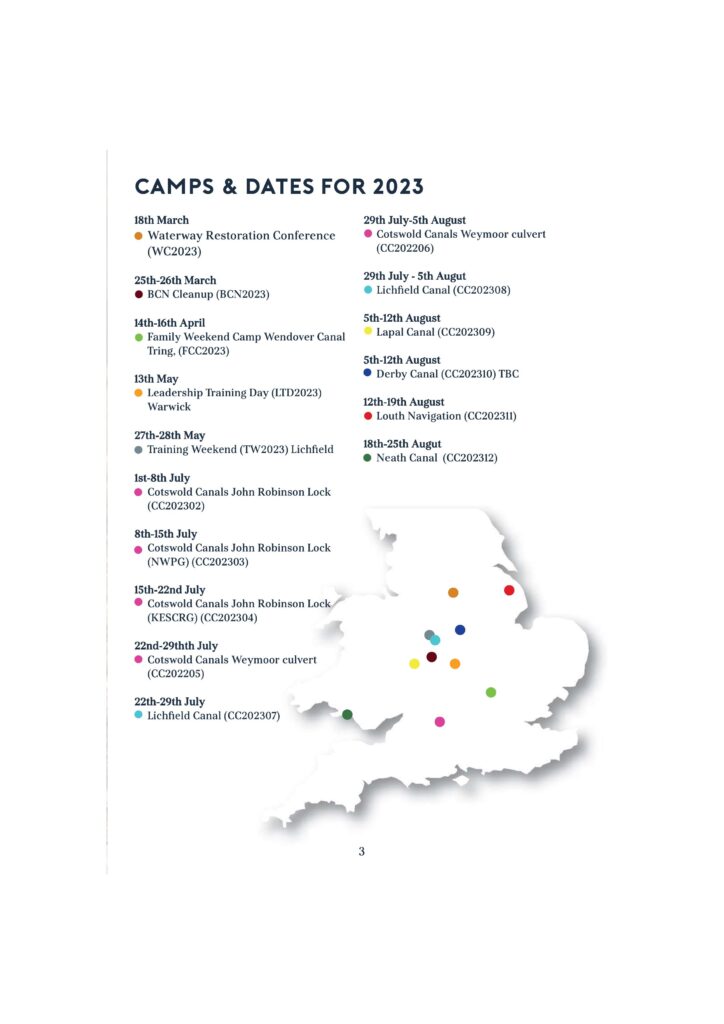 Learn new skills
Experience is a bonus but isn't necessary. Our Camps offer you a fantastic chance to learn new skills such as:
Bricklaying
Stone walling
Machine operation
Heritage restoration techniques
Volunteers on our camps work together and make a real difference over the course of the week. They leave with a sense of pride, knowing that they have helped to bring a waterway back to life.
Charlotte, volunteer from the Burslem Port Canal Camp in October 2021, said 'I thoroughly enjoyed my first experience of a Canal Camp. The combination of fresh air, mud and getting hands on experience of restoring our heritage in the company of friendly people, was the perfect way to spend a week!"
James aged 18, said about his experience: "It was great to work with a lovely mix of people and ages; I particularly enjoyed learning new skills such as how to use a survey level as in the future I would like to become a civil engineer."
Why restore canals?
We restore canals as we believe they are a key part of our 21st century green-blue infrastructure. They act as a huge, linear national park, connecting communities, providing safe havens for wildlife and spaces for people to enjoy and relax in. They are also an important part of our industrial heritage and could play an important role in protecting us from flooding due to climate change.
Find out more about our Canal Camps.
Find Your Summer Canal Camp Staycation